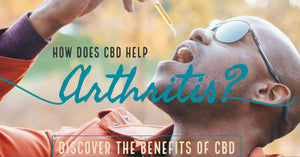 Benefits of CBD for Arthritis
Arthritis is an often debilitating condition leaving those suffering with this chronic condition looking for any way to reduce the chronic joint pain and inflammation caused by the disease. Over 50 million adults and 300,000 children in the United States suffer from some form of arthritis. It is a staggering number that is affected by this condition and with no cure, options for treatments can vary including steroid injections, anti-rheumatic drugs, to alternative medicines like acupuncture and the use of CBD. Oftentimes, those suffering from arthritis struggle to find a product that can help ease their pains in a safe and non-habit forming manner.
CBD Use for Arthritis
CBD a cannabinoid extracted from the cannabis plant has been studied in the treatment of arthritis in its ability to both reduce the chronic pain associated with the disease and the joint inflammation. Although studies in humans have been limited due to restrictions on cannabis in the past, there have been a number of promising results in both animal and human studies showing a reduction in pain and inflammation caused by arthritis in its test subjects.
How Does CBD Help Arthritis?
As delineated in an article by Healthline; researchers believe that CBD can reduce pain and inflammation for those with chronic conditions by working with the endocannabinoid receptors that are already present within your brain and immune system. When a person uses CBD there is an increase of those cannabinoids throughout your brain and body resulting in the overall reduction of inflammation and pain.
Benefits of CBD for Arthritis
Reduces joint pains

Reduces inflammation

Non-habit forming – unlike prescribed opioids CBD is non-habit-forming even with continued use.

Fewer side effects than prescription pain relief – although some individuals that use CBD products may experience mild side effects such as intestinal discomfort or drowsiness there are no serious side effects associated with CBD use as has been found with prescription medications.
---