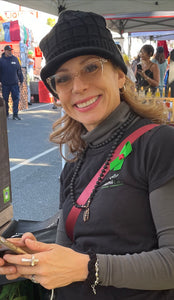 Christine Leakos, Cannabis Educator Appearing at the SSG Event, June 19 at The Heights in Burbank
Why Would a Certified Fraud Examiner Become an 
Educator in Cannabis, CBD and Herbal Medicine?


What are the differences between CBD and THC?
Discover Why People Are Curious
 About CBD it's Strengths & Uses
***********************************************
Christine E. Leakos, MBA, CFE
Christine Leakos is a personal trainer, Certified Cannabis Health Practitioner and an aspiring doctor (PhD) in herbal medicine and Acupuncture. She was inspired by her baby sister-Lisa (who died at 28 from a gastric by-pass) and her Grandmother-Nana (Naturalist Herbalist & Healer). Christine is a passionate coach and educator empowering others to live healthier, happier lives.
Monday - June 17, 2019  
12:00 - 1:30 PM
DO NOT park in The Heights garage.
They have limited space to be used only by their residents.
See Parking Options Below
LOCATION!
The Heights 
at Burbank

2721 W Willow St, Burbank, CA 91505
ONLY PARK in lots mentioned below.
Or contact: 
Suzi Fox at:  805-907-2518 or 
Chris Lapidus at:  239-839-2559
There are THREE OPTIONS for Parking:
1 - This is the BEST OPTION: Be one of the first 10 people to park at 
at 2600 Frederic Street Lot  (corner of Willow & Frederic - Entrance on Willow)  Arrive EARLY  at this lot and you will receive a validation to park for FREE - show your Foundation for Senior Services card - OR at least TELL them you are with SSG.
2 - Park in the lot directly across the street from The Heights                (identified as the parking lot for 2727 W. Alameda Ave.)  There is no gate - but you will need to show your Foundation for Senior Services card - OR at least TELL them you are with SSG.  
3 - There is Street Parking  On these streets: - W. Willow St., Florence St., Niagara St., Frederic St., W. Alameda Ave., W. Olive Ave.
Please DO NOT PARK  in The Heights garage this will compromise our ability to continue meeting there.  Their garage is for their residents ONLY.

           WHAT YOU WILL LEARN:
Why and How Cannabis became illegal
What are the differences between CBD and THC
Different strengths of CBD and it's uses
Different strengths of THC and it's uses
How to select the best CBD in the market
Is CBD or THC right for you 
After many years in the accounting realm, Christine decided to pursue a more gratifying career in Cannabis, Acupuncture and Herbal Medicine.
The wonders of this sacred plant and its healing properties opened wide doors of opportunities for her. She does events throughout the state of California educating hundreds on this medicine and it's miraculous health properties.
She hopes to help and inspire those seeking a better health path through holistic medicine. Christine believes the human body was engineered to heal itself provided we feed our bodies what it needs.
Our anatomical bodies communicate with us daily. When our bodies do not function properly, we get signals, when these signals are ignored, we become ill.
Senior Specialists Group (SSG) is a branch of the Foundation for Senior Services, a non-profit 501(c)(3), Central Senior Services Organization.
The purpose of SSG is to bring together a team of senior care specialists that are passionate about the health and well-being of the senior community.
SSG chapters are comprised of experienced professionals and businesses that meet regularly to network, create and organize ways to educate and assist seniors on every level of senior care.
SSG gives back through fund raising and charitable giving to the Foundation for Senior Services, and provides supplemental funding to help seniors in need.

Copyright © 2018. All Rights Reserved.


---